Tailor made suits, cut and fitted on the premises to Savile Row tailor standards
Souster & Hicks are a family owned and run bespoke tailors based in the beautiful village of Woburn, established in 1978 by Geoff and Laura Souster, they soon became the most well known and respected bespoke tailors outside of London's Savile Row and were the very first bespoke tailors in 1988 to feature on the BBC "The Clothes Show". In the same year Geoff was elected as the National President of the Federation Of Merchant Tailors by his Savile Row peers, making him the youngest bespoke tailor ever.
Hover to zoom
popup-1
popup-2
popup-3
popup-4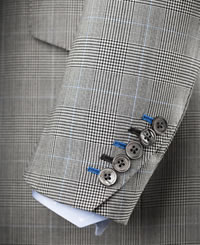 Bespoke tailoring and
bespoke suits
With both sons Scott and Wes working in the business, sewing, drafting, cutting & designing they're now able to continue the future of the Souster name within bespoke tailoring.
The Sousters have hand drafted and cut over 30,000 suits between them.
At Souster & Hicks you have two tailoring options, firstly hand craft bespoke tailoring, with the Sousters having personally hand drafted and cut over 25,000 suits between them they offer a handmade bespoke suit service easily on par with the best Savile Row tailors but as they don't have the huge overheads of a Mayfair
address, they're able to offer a more
competitively priced bespoke
suit, all these bespoke suits are
drafted, cut and fitted
on the Woburn
premises.
Secondly,
by using the most
modern computer cutting
methods Souster and Hicks offer a
Made to measure factory made suit, this is also
known as a "semi-bespoke" suit. Often
described as a halfway house between a very good suit off the peg and a fully hand tailored bespoke suit, this service offers a great insight into the "tailoring" world.
How it started and how our
suits are made
Wedding suits and
made to measure shirts
Made to measure shirts are a very popular part of the business, where you can design your own individual shirts, whether it's a classic business shirt or something a bit "different" a stunning selection of fabrics, styling options and trims are available.
Souster and Hicks also design their own label ready wear suits and jackets, plus have collections of casual clothes from well known brands making it a one stop shop experience. Should you not be able to find the time to visit their shop in Woburn, where you have a wonderful selection of restaurants, the world famous Woburn Golf Club and The Woburn Abbey & Safari Park you can arrange an appointment in Savile Row at the premises of cloth merchant Holland & Sherry or at Dormeuils premises in Sackville Street. We also have a ladies tailoring side, that creates beautiful womens clothing named Laura Souster Couture - Ladies Tailors website.
I really did not think it was possible for me to feel that good in a suit!
I can safely say, that I have never felt so good in a suit.
My first tailoring experience was a true joy from beginning to end.
The best Savile Row tailors I've ever been to.
A beautiful suit.You did it with such style, charm and pulled out all the stops!
next
prev